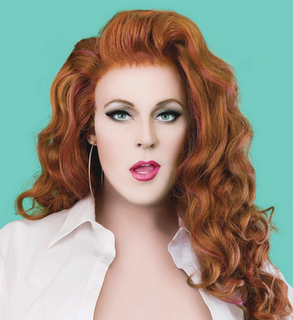 Varla Jean Merman is a character originated and portrayed by Jeffery Roberson, an American actor, singer and drag performer. Varla's fictitious pedigree boasts that Ernest Borgnine is her father and Ethel Merman is her mother.
Varla's shows are a staple of summer entertainment in Provincetown, Massachusetts. She also performs fairly often in New Orleans, New York City, San Francisco, London and has also enjoyed billing at the Sydney Opera House in Sydney, Australia.
Varla has had several appearances on television and film.  Varla is perhaps best known for her role in the 2003 independent film Girls Will Be Girls. She also had a co-starring role in the 1997 film Franchesca Page. Varla was also one of the performers featured in the HBO original documentary Dragtime. She has appeared in a number of short films and live cabaret acts since she and her male alter-ego attended the School of Music at Louisiana State University.  The gay-themed television network LOGO commissioned Merman to write and star in an animated educational short film about the Stonewall riots of 1969.  Merman appeared on the August 20, 2008 Project Runway episode "Good Queen Fun". The outfit created for her was the winning design.  She also had two short runs on the soap opera All My Children as the character "Rosemary Chicken".
Accomplishments
Along with co-stars Miss Coco Peru and Evie Harris, Merman shared the Best Actor Grand Jury Award at Outfest 2003 and "Best Actress" honors at the 2003 U.S. Comedy Arts Festival for her role in Girls Will Be Girls.
———————————————————–
———————————————————–
Below is a show ad for Varla from 2009: