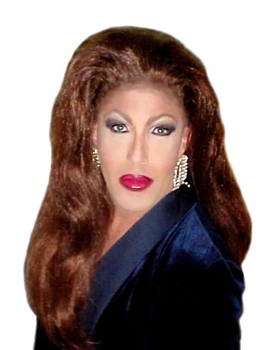 Our Community Roots is happy to be able to release a tribute in the memory of Tara Richmond. In January of 2005, we were able to receive this incredible information from Tara's husband Ray Glenn who was her partner for 17 years.
Born as Richard Henson on April 29, 1961, Tara Richmond began practicing the art of female illusion at the age of 18 when she became a cast member at the Twilight Lounge. While a cast member at the Twilight, Tara was taken under the wing of Brandy Lamonte, who then became her "Drag Mother". After holding the position of Show Director at the Grotto II, Tara then went into retirement for over 8 years.
Returning to the stage in April 1996, Tara was crowned Miss Mardi Gras in 1997. Tara was also crowned Miss Columbus Gay Pride in 1998, and reigned as the first Miss Ohio Gay Pride also in 1998. This title afforded Tara the honor of performing at the 1999 Gay Pride Celebration in Columbus, Ohio.
Tara was then crowned Miss Remo's 1999 as well as Miss Gay Columbus America 2000. With the support of Remo's, Hidden Woman, Tremont and South Bend Tavern, Tara competed in the 2000 Miss Gay Ohio America Pageant. Winning the categories of Creative Fashion and Evening Gown. Tara placed as First Alternate, qualifying her to compete in the National Miss Gay America Pageant. Tara was then crowned Miss Wall Street 2001, and competed again for the Title of Miss Gay Ohio America in 2001. Winning the category of Evening gown, Tara placed again as First Alternate, qualifying her to compete a second time in the national Miss Gay America Pageant.
Tara was also the first winner of the Spotlight Magazine Award for Best Female Illusionist, and was also honored with the Golden Teddy Bear Award by the Columbus Centurions for her outstanding fundraising efforts. Tara was Show director at Tremont, South Bend Tavern, Remo's, Garret's Saloon, Club Utopia and Woody's. Tara hosted Shows at Tabu' every other Saturday Night with her friend, Brazon, and performed regularly at Pyramid and the Columbus Eagle. Tara also held the position of Events Director for Hidden Woman where she hosted the Hidden Woman Rising Star and Hidden Woman Search for the Stars which was a talent contest showcasing new female impersonators.
Tara traveled throughout Ohio and West Virginia performing in various clubs and Pageants. It was not unusual for Tara to perform every night of the week. A witty comedienne and a wonderful dancer, Tara loved the stage and enjoyed working with entertainers like Brandy Lamonte, Coco Kayne, Amanda Kayne, Lita Mannon, Darah Landon, Georgia Jackson, Jonda St. John, Vivi Velure, Vanessa Brown, Amanda Love, Cari Wayne, Amber Marie, the Legendary Brazon, and many, many others.
It was Mary Ann Brandt who named Tara the "Queen of the South". Sadly, Tara died unexpectedly of a heart attack on July 28, 2002 at the age of 42. Tara is survived by a daughter, 2 sisters, a brother and a very loving family in addition to a group of very dear friends and many adoring fans who keep her name and memory alive.
Titles and Awards
1st Alternate to Miss Gay Ohio America 2001
Prelim to Miss Gay America
Miss Wall Street 2001
(Wall Street Night Club – Columbus, Ohio)
1st Alternate to Miss Gay Ohio America 2000
Prelim to Miss Gay America
Miss Gay Columbus America 2000
Prelim to Miss Gay Ohio America
Miss Remo's 1999
(Remo's – Columbus, Ohio)
Miss Columbus Gay Pride 1998
Prelim to Miss Ohio Gay Pride
Miss Mardi Gras 1997
Archives Featuring Tara Richmond
---
Tara Richmond: Performance History
---
Some venues and events that Tara has been a part of include: