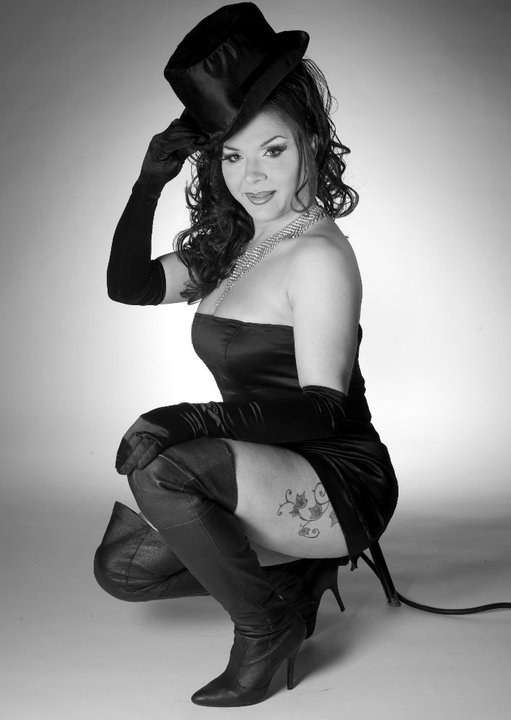 Morgan Lefay is an entertainer out of Parkersburg, West Virginia where she has been doing shows and performing since 1995 starting in a bar called Different Strokes in Parkersburg.
Morgan loves giving back to her community. Between 2010 and 2012 she participated in illusion benefit shows for the battered woman's shelter in Athens, Ohio and helped raise over $40,000.  She also worked at Aubrio's in Athens along with the battered woman's shelter.
Morgan is known for her impersonations of Shania Twain, Martina McBride, Annie Lennox, Katy Perry and Jessie J.  Around Halloween you can find her performing as Elvira Mistress of the Dark at various venues and she also performs as Elvira at the Marietta Zombie Walk.
Morgan has had many entertainers inspire her including her drag mother Amanda Love who passed away in 2014 and Coti Collins who she loves and has performed with many times. Other inspirations include Michelle St, James in Charleston WV, Jennifer Warner, Veronica Lake , Lucy Lipps and so many more.  Morgan has worked with these girls and credits learning so much from all of them.
Accomplishments
Miss Queer News 2010
Miss Pride of Parkersburg 1998 and 2001
*Morgan is also a former Miss Virgo (Trax – Charleston, West Virginia)
———————————–
Morgan Lefay on Facebook
 Here are some of the clubs Morgan has performed at over the years:
Port Richey, Florida: The Cribari Club
New Orleans, Louisiana: Oz
Pittsburgh, Pennsylvania: Eagles, The Link
Charleston, West Virginia: Broadway, Grand Palace, Trax | Huntington, West Virginia: Driftwood, Polo | Morgantown, West Virginia: Vise Versa | Parkersburg, West Virginia: Different Strokes, Genders, The Otherside, Scrupples, Utopia, Woodstar | Wheeling, West Virginia: Wild Coyote