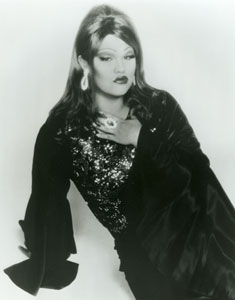 Racquel has been involved in the art of female impersonation since 1991, entering and winning her first talent night at Five Points Depot in Nashville, TN at the age of 17. Like most newcomers, Racquel (actually "Rachel" at the time) struggled to find herself as an entertainer and what kind of image and illusion she wanted to project. A well known impersonator in the area suggested she change her name to Racquel to better suit her rather exotic look. Thus, "The Latin Lovely," Racquel Scott was born.
Over the next few years Racquel won several local pageants and contest and received her first professional gigs as a special guest and as a cast member at such clubs as Victor Victoria's, The Cabaret and Roxy's. Racquel's first big win came in 1995 when she was crowned Ms. Music City America at the now defunct Cowboys LaCage theater. For the next year she competed on a national level in 4 different pageantry systems including Ms. Gay America, Ms. Gay USofA, Entertainer of the Year and Ms. Continental. Let's just say that she was anxious to get her feet wet!
Still struggling to get the exposure and recognition she wanted Racquel took a brief hiatus. During this period, Racquel had developed into a more voluptuous, full-figured gal! It was time once again to re-invent herself, this time as a more relaxed but serious and somewhat comedic entertainer. Racquel had finally begun to get noticed as a big girl that could dance and also for her emceeing abilities. Racquel would often poke fun at herself about her weight gain during her monologues but rest assured today she is comfortable in her own skin.
She looked to her sisters and mentors for guidance. Entertainers such as Chyna, Nichole Ellington Dupree, Bianca Paige and Rita Ross were eager to offer advice and lend a helping hand. Racquel credits Rita Ross with giving her the big break she felt she needed and deserved. Rita hired Racquel as a cast member at the Chute Complex's new Rainbow Room where she would appear 2-3 times a week from the spring of 1998 until the fall of 2001. Throughout performing at the Chute, Racquel would focus on becoming a more polished entertainer while venturing out into the plus-sized arena of competition in female impersonation. From 1999-2003, Racquel placed in the top twelve at 4 national pageants including Ms. National at Large and Ms. Continental Plus.
She was finally receiving the attention and exposure she had longed for but would soon grow tired of the same old routine. Racquel made the decision to leave the Chute Complex in 2001 and landed 2 different shows at 2 different alternative clubs including the Outer Limit and the Nashville Nightlife Theater. Also during this time she was hired as a cast member for "La Boy Le Femme" at the Connection Complex of Nashville in 2002.
2003 brought about a major life change both personally and professionally: it was time to move on. Racquel was offered and accepted a cast spot at the Quest club in Birmingham, AL." Leaving behind many close friends, loved ones and a life partner of the last 5 years was definitely one of the hardest things I've ever had to do" says Racquel. "Life is a journey and about taking risks, things happen for a reason, when one door closes another will open at God's will" she explains.
Playing on her energetic performances, her "large" persona on the stage, and her humorous, audience-captivating emceeing, Racquel has given herself the title of "Pig In A Wig." (OH – now you get the logo!). Racquel has become the show director and main emcee of her own show appropriately titled "Phat Fridays!" This high energy drag show features headliners from all over the country as well as showcasing new talent. Racquel would like to thank all of her new fans and friends for their support and welcoming her with open arms. She would also like to give a very special thanks to Ms. Chivonne Street and the staff and management of the Quest Club. "If it wasn't for you, I wouldn't be here and I thank you"!
In conclusion, Racquel Scott is one of the most well-rounded, versatile, talented impersonators in the buisness today. She has finally created and accepted the persona she had always wanted to. A fun-loving, comedic, serious but silly, beautiful and glamorous, inside and out entertainer and individual and drag queen extraordinaire!!
Titles and Awards
Miss National Apollo 2004
Miss Birmingham Apollo 2004
Miss Heartbreaker at Large 2004
Top 12 at Miss Continental Plus 2003
Miss Nashville Nightlife Continental Plus 2003
Prelim to Miss Continental Plus
Miss Tri States Continental Plus 2002
Prelim to Miss Continental Plus
Miss Gay Huntsville 2002
Miss Nashville Gay Pride 2002
Miss Chute 2002
Nashville Entertainer of the Year, F.I. 20o1
Prelim to National Entertainer of the Year, F.I.
Miss Cosmopolitan Continental Plus 2001
Prelim to Miss Continental Plus
Top 12 at Miss Continental Plus 2000
Miss Tennessee Continental Plus 2000
Prelim to Miss Continental Plus
Top 12 at Miss National at Large 1999
Miss Tennessee National 1998
Prelim to Miss National
Miss Gay Tennessee USofA 1997
Prelim to Miss Gay USofA
Miss Gay Knoxville USofA 1997
Prelim to Miss Gay Tennessee USofA
Miss Davidson County 1997
Miss Kentucky Continental 1996
Prelim to Miss Continental
Tennessee Valley Entertainer of the Year, F.I. 1996
Miss Gay Kentucky USofA 1996
Prelim to Miss Gay USofA
Miss Heartbreaker 1996
Miss Gay Music City America 1995
Prelim to Miss Gay Tennessee America
Miss Music City Classic 1995
Miss Mid-State 1993