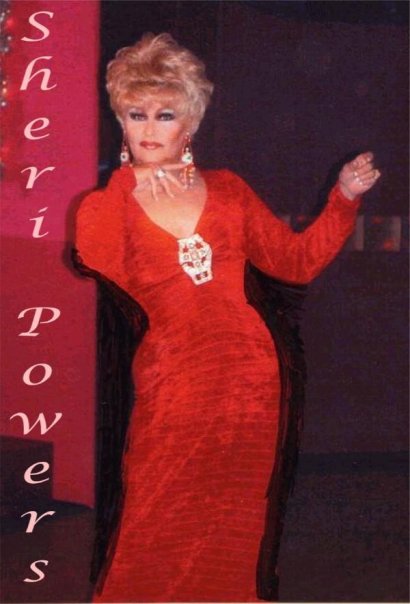 Sheri Powers was an entertainer from Oklahoma City, Oklahoma.
Accomplishments
1st Alternate to Miss Gay Oklahoma America 2004
Prelim to Miss Gay America
—————————–
Visit the Sheri Powers Tribute Page on Facebook
Below is the obit that ran in the Dallas Voice:
Ronald Jerome Alford, aka Sheri Powers, 62, died peacefully at his Oklahoma City home on Jan. 26, surrounded by his beloved dogs and friends. Alford had lived with HIV since the mid-1980s and was one of the top 100 survivors in the world as far as length of time living with the disease.
Alford suffered a stroke in November 2009 and never fully recovered. The stroke forced him into retiring from his career in female impersonation, which he dearly loved and enjoyed.
Alford was a cosmetologist in Dallas for more than 35 years, retiring from that field shortly before moving to Oklahoma City.
Alford was an entertainer, a friend, an artist and one of the most fair, honest people you would ever meet. He was elegant and classy both as a man and a woman, and paved the way for many of the female impersonation stars today. Alford began his career as Sheri Powers in straight bars with often rambunctious, rowdy and even dangerous crowds. He also owned two nighclubs in the Dallas area: La Folles, which was a La Cage-style "tourist bar" in the entertainment district, and The Power Company, a classic show bar on Fitzugh Avenue.
Alford also owned several pageants throughout the years, including Miss Gay Globe, Miss Gay Universe and Mr. Gay Dallas. He held many titles throughout his career as entertainer Sheri Powers, including "The Silver Anniversary Miss Gay Dallas," the one of which he was most proud. His other titles included, but were not limited to, Miss Gay South, Miss Gay Angles, Miss Gay Arlington, Miss Gay Copa, Miss Gay Universe, Miss Gay Bamboleo's and Miss Gay Tramps. He was also first alternate to Miss Gay Texas and Miss Gay Oklahoma, and placed in the top 10 at the Miss Gay America pageant on numerous occasions.
Alford, as Sheri, was the honorary grand marshall twice in the Alan Ross Texas Freedom Parade, and was is Empress II, VII, XI and XVII in the United Court of the Lone Star Empire.
Alford never said no when it came to charity events, donating countless hours of his time to help those who were suffering with HIV and AIDS. He also was instrumental in the grassroots start of the church known now as the Cathedral of Hope and hosted countless benefit shows through the years to raise money for the church.
Alford was an impeccable seamstress and was well known for his elegant and classy evening gown designs. He made most of Sheri's "drag" clothes from scratch and did all of his own hair and makeup. And Alford was known to style wigs and help the other entertainers, even in pageants when Sheri was competing against them.
Alford was generous and trusting to a fault and his passing leaves a void in the hearts and souls of so many.
Alford is survived by his companion of 16 years, Mark D. Manning, Ronnie Alford at The Cove in Dallas, and by one sister. He will be cremated and his remains will be placed in an urn between his mother and father in Mississippi, where the family is originally from.