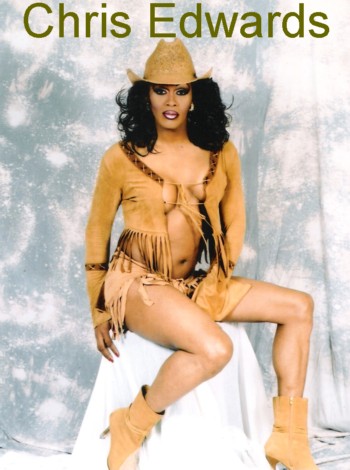 Chris Edwards is an entertainer currently residing in Toronto, Canada where she is featured at George's Play.  Extremely popular in Toronto, Chris has been voted several times by fans as Entertainer of the Year.
Chris got her start performing at a lesbian bar in Fort Lauderdale, Florida in 1983.  She is known for her impersonations of Whitney Houston, Janet Jackson, Grace Jones, Mariah Carey and Michael Jackson.  Chris is also known for combining comedic talents along with her performances.
Edwards has lent her talents to help raise more than $250,000 for AIDS charities.  Her commitment to the community is evident.
Accomplishments
Miss International
Miss Gay Universe
Miss New York State Continental
Miss Gay Canada
————————————————
Below is a 2010 ad featuring Chris: