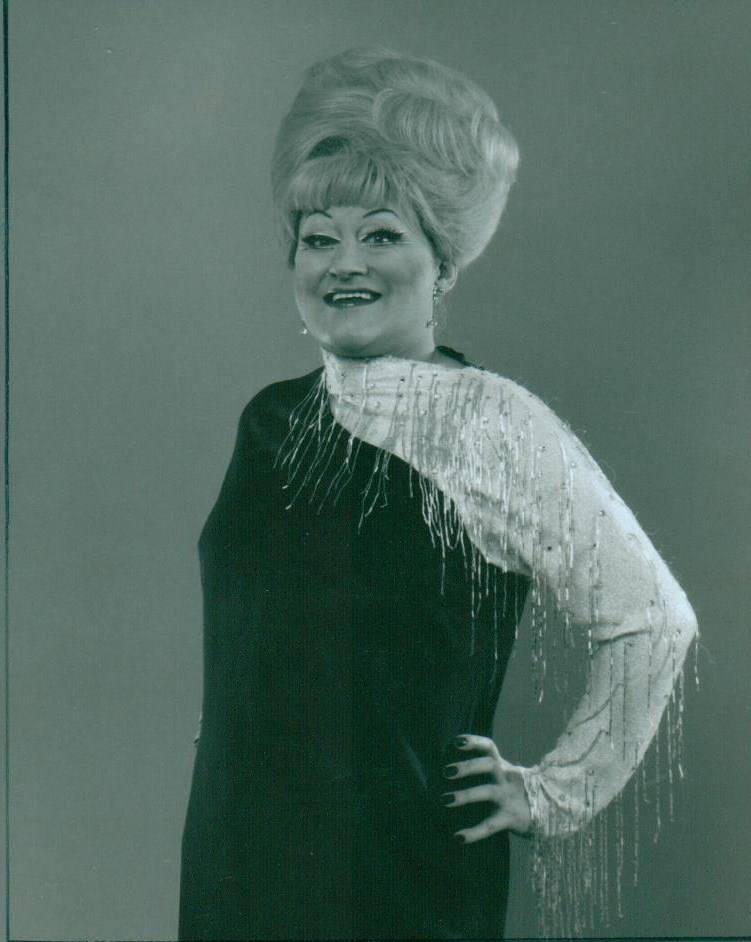 Billie Boots, who was also known as "Florida's Queen Mother", was an entertainer out of Daytona Beach, Florida where he was featured at places like the Hollywood Barn Door.  In the early days of his drag career, Billie also tried the names Eve Paradise and Candy Barr, but in the end decided to stick with his own name as Billie Boots. Billie started performing at an early age, when as an orphan, he ran away and joined a carnival where he lived as a woman stripping until he was old enough to work.  The owner of the carnival also owned a night club in Miami Beach and Billie would work there in the Fall and Winter when the carnival was not running.
One of Billie's last known recorded performances was in 1998 at the Hollywood Barn Door in Daytona Beach for the documentary "Queens for a Night".  In that film Billie talked about the requirements when he first started doing female impersonation and how you had to have a male name.  He also had to come to the bar as a male dressed in a shirt, tie and suit, do the show and leave dressed as a man at the end of the night.  As a consequence, he would have to take off his wig at the end of a show, something he continued to do years later when this was no longer a requirement.  In those early years, female impersonators were also not aloud to mix with the audience when dressed as a woman, so after each performance they would have to go back to the dressing room right away.    Billie talked about being arrested and laws that existed at that time where on one block it was against the law to be dressed as a woman on stage and another block over in another jurisdiction it was against the law to be dressed as a woman in the audience.  One other interesting historical period Billie talked about in the film was the requirement that when entertainers were finally allowed to leave bars dressed in drag, they had to carry entertainer cards or police cards that they got from each local police department with their picture and names on it when they were traveling in the event that they were pulled over.
When living in New York City, Billie was a seamstress and made costumes for many big stars like Totie Fields, Lena Horne, LaVern Baker, and Ruth Brown. Billie also traveled with Tubby Boots, his partner of 21 years, for a period of time.  When one of the venues he worked at closed he moved and worked out of Nashville, Tennessee.  Billie also performed in places like Grand Central and the Old San Juan in Orlando, Florida in the late 1970's.
Two strokes in Billie's later years slowed him down but his enthusiasm and passion to entertain a crowd never failed. He also always gave back and supported local charities like the AIDS Coalition and Our House, which gave him several awards of appreciation. Billie Boots was truly a legend and someone who helped pave the way for so many who came after him.  Sadly this great individual and entertainer is no longer with us but we will always remember his contributions to the GLBT community.
Titles and Awards
Lifetime Achievement Award 1997
Honorary Miss Florida F.I. 1997
The Tubby Boots Memorial Award for the Comedy Award of the Decade 1996
2nd Alternate to Miss Gay America 1974
Miss Gay Florida America 1974
Prelim to Miss Gay America
*Billie was also crowned the official Miss Florida Queen Mother.
Above are some of the last photos of Billie Boots taken at the Hollywood Barn Door in Daytona Beach, FL. (Photo courtesy of Eric Brown Yaughn)
Captured Moments with Billie Boots