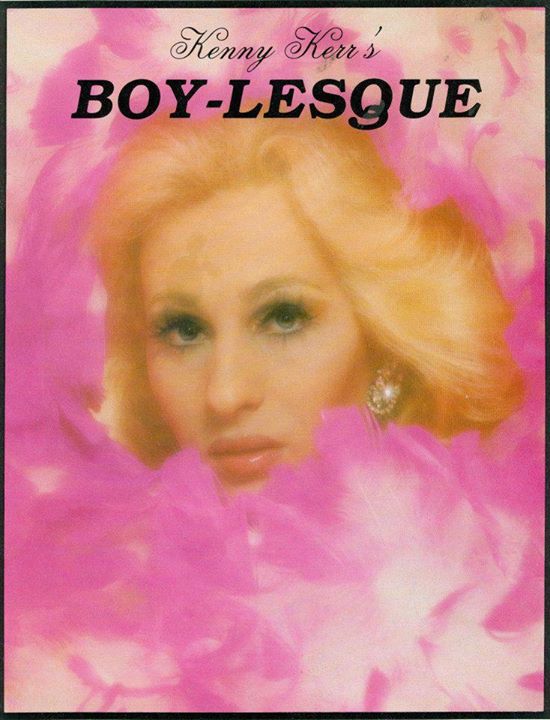 Kenny Kerr was an entertainer out of Las Vegas, Nevada and was considered by many to be a pioneer to the female impersonation and show girl community.  Sadly we lost this icon in April of 2013.
Below is a press release that the family released that tells the wonderful story behind this great man.
———————————————–
The original queen of the Las Vegas strip & The World's foremost Master of Female Impersonation Passes Away at Age 60!
Las Vegas Loses Another Legend – Official Press Release
The original queen of the Las Vegas… strip and former 'Longest Running Las Vegas Headliner' – Kenny Kerr died this morning at the age of 60.
(Las Vegas, NV April 28, 2013) – Legendary Las Vegas entertainer Kenny Kerr peacefully passed away this yesterday morning at the age of 60. Kenny Kerr was known as The World's Foremost Master of Female Impersonation. Kenny's legendary Las Vegas show Boy-Lesque was the longest running show of its kind and remains a show business institution.
Kenny's seamless impersonations of Barbra Streisand and Cher illustrated his ability to transcend the typical female impersonator genre. Kenny Kerr was in fact, a multi-faceted entertainer who combined his talents as a live vocal singer and comedian, with his first class standing as the "Master of Disguise" to bring audiences one of the finest shows in the world.
Born and raised along with his two sisters in the rural community of Blue Anchor, New Jersey; Kenny was primarily raised by his mother after his parents separated. Shortly before his sixteenth birthday, Kenny was shopping in a Philadelphia mall when the producers of a local female impersonator show approached him. The producers told him that he had a natural resemblance to Barbra Streisand and would he consider being made-up for an audition; to which he agreed. The makeover was a remarkable success and he was offered a part in the company's production portraying Streisand and other female show business icons.
The following two years Kenny began an almost impossible routine of attending high school by day, and then traveling by bus each night to perform in Philadelphia. After graduating from high school, Kenny turned 18 and began producing his own show; which he eventually took on the road for the next two years while perfecting his craft as an entertainer.
On May 13, 1977, Kenny brought his now-seasoned production of Boy-Lesque to Las Vegas and opened at the Silver Slipper Casino; where it quickly became one of the most successful shows on the Las Vegas strip! Almost immediately he gathered a cadre of celebrity fans including: Joan Rivers, Rich Little, Debbie Reynolds, Cher, Sammy Davis Jr., and even Barbra Streisand. Ms. Streisand was so smitten with Kenny's portrayal of her; that one evening she arranged for her mother and sister to have dinner with him.
In 1999, Kenny Kerr became the first female impersonator ever to be inducted into the Tropicana Hotel's Las Vegas Hall of Fame. In the fall of 2001, Kenny Kerr was chosen from among many Impersonators from around the world as the World's Top Female Impressionist by the television show Tacha A Spilia in Milan, Italy!
In 2002, Kenny finished a 5 year run at the Plaza Hotel and Casino in Las Vegas, which marked his 25 years as a Las Vegas Headliner. Also in that year, Kenny released his CD entitled Songs From The Heart, which featured his live vocals. Because of the release of his CD and one-man show An Evening With Kenny Kerr, he toured until 2006 appearing in several cities across the United States, including: Fort Lauderdale, Tampa, Philadelphia, Minneapolis, Seattle, San Diego, and Honolulu. Kenny was also a popular featured entertainer on Carnival Cruise Lines based out of the Port of Miami. Kenny also starred in a special engagement of Boylieve It or Not at the Fantasy Springs Casino in Palm Springs, California. While in Palm Springs, Kenny was asked to do a special performance at Merv Griffin's Oscar Party hosted by the Gevenchy Hotel.
Kenny fell in love with Palm Springs and the city of Palm Springs fell in love with him. In 2006, Kenny moved to Palm Springs to star in the CopyKatz Revue. However, the lights and energy of Las Vegas kept calling Kenny back, so in 2012, he moved back to Las Vegas to be closer to family and friends.
Kenny's 'trailblazing' efforts as the first female impersonator in Las Vegas paved the way for similar current shows not only here in Las Vegas, but around the world as well. Kenny was a true first-class star and his memory will live-on in the hearts that he touched.
Kenny Kerr Credits
Silver Slipper Casino Las Vegas 12 years
Sahara Hotel & Casino Las Vegas 6 years
Stardust Hotel & Casino Las Vegas 6 months
Debbie Reynolds' Hotel & Casino Las Vegas 3 years
Gaughan's Plaza Hotel & Casino Las Vegas 5 years
Fantasy Springs Casino Resort Palm Springs 6 months
Hula Hut Hawaii 2 years
CopyKatz Showroom Palm Springs 2 years
DeStefano's Italian Cabaret Las Vegas 6 months
Specialty Engagements
Opening Act for Joan Rivers as Joan Rivers Atlantic City & Las Vegas
Opening Act for Connie Francis Las Vegas
Movie Credits
Life and Time of Heidi Abromowitz
Road Trip, with Christopher Lee
Jocks
Fists of Steel
The Associate, with Whoopie Goldberg
Television Credits
E! Entertainment – "Hollywood Glamour"
Sally Jesse Raphael Show
Lifestyles of the Rich & Famous
The Mike Douglas Show
The Tonight Show with Jay Leno
Tacha A Spilia – Milan, Italy
Hard Copy
Jenny Jones Show
Phil Donahue
Montel Williams
Tom Snyder
Suzanne Sommers Show